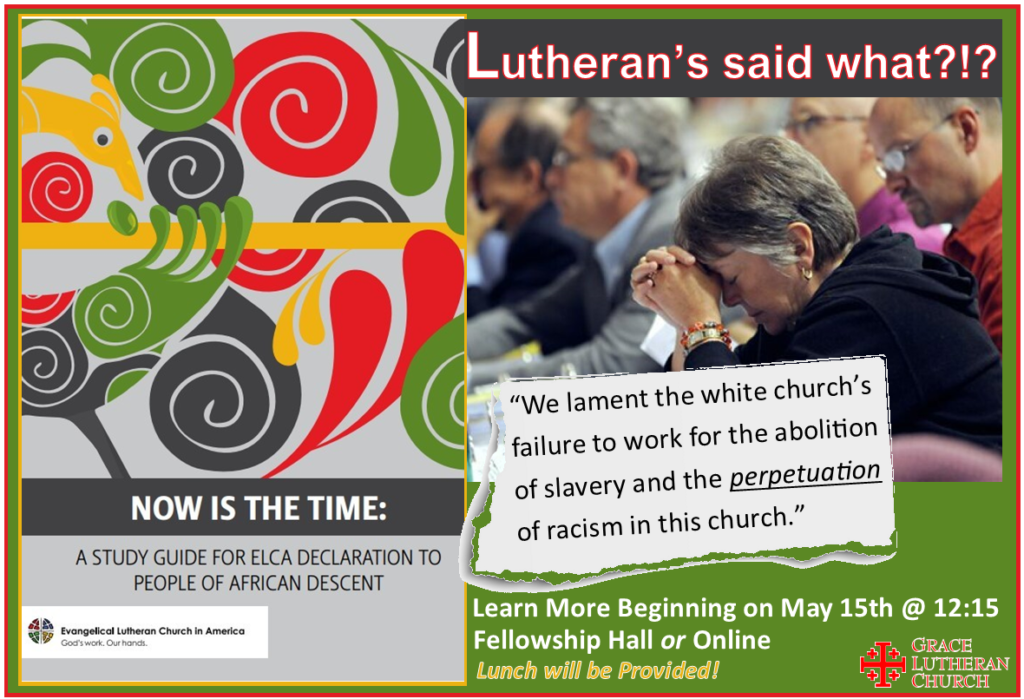 "The Evangelical Lutheran Church in America (ELCA) apologizes to people of African descent for its historical complicity in slavery and its enduring legacy of racism in the United States and globally. We lament the white church's failure to work for the abolition of slavery and the perpetuation of racism in this church. We confess, repent and repudiate the times when this church has been silent in the face of racial injustice."
Wondering what Lutherans "officially" say about reparations?? Were Lutherans really all that racist?? Is there really still a racial divide in the Lutheran Church today? And, what does all this have to do with me when I am not racist??
The Evangelical Lutheran Church in America (of which Grace is a member) recently voted at the national assembly to issue an apology to those of African Descent for Lutherans' participation in racism in the past and in the present.
Grace will be working through the ELCA Statement and Study Guide in 5 Sessions after 11:00 worship on May 15, 22 & June 5, 12 and 19. Lunch will be provided, including vegetarian and gluten-free options! It's not too late to come join in the conversation, learning, complaining, grieving, shock, and optimism for a faithful future for the Lutheran Church. Please download copies of both the Explanation of the Declaration and the Participant Guide and use them to prepare for each Session.